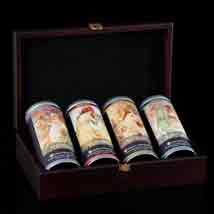 View Larger Image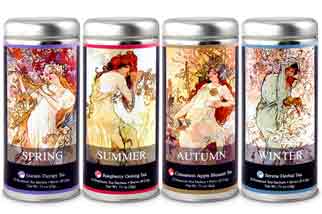 View Larger Image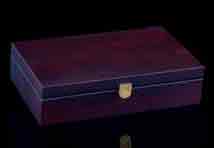 View Larger Image
MUCHA'S FOUR SEASONS HERBAL TEA CHEST
This exceptional tea chest is a gift to delight the senses year-round. Resting inside the wooden chest are four tea tins, each decorated with a reproduction of one of the four seasons prints of art nouveau artist, Alphonse Mucha. Each tin contains 10 biodegradable tea sachets, which will each brew 2-3 cups of tea. The teas in each tin are:
Spring - Garden Therapy Tea - a unique blend of medicinal herbs and berries, including basil, spearmint, rose hips, lemon myrtle and linden blossoms, with berry flavoring. Caffeine free.
Summer - Raspberry Oolong Tea - Oolong tea with raspberry flavor, apple bits, cranberry bits and hibiscus. Contains mild caffeine.
Autumn - Cinnamon Apple Blossom Tea - A warm, herbal blend with the warmth of cinnamon and complimented with mild apple flavoring. Caffeine free.
Winter -Serene Herbal Tea - A calming and comforting blend of chamomile, lavender, lemon myrtle and spearmint leaves. A tranquil, light tea for the body, mind and soul.
The tea tins are so beautiful that the owner will probably want to display them standing, as a decorative accent. If so, the wooden chest can be used to hold tea bags, or to store desk or personal accessories. The wooden chest measures 11-7/8" x 7-1/4" x 3" high, is lined with felt on the inside, and has slats that separate the interior into four compartments. (Item #2548)