Why send ordinary flowers, gift baskets, or chocolate gifts
when you could send an extraordinary gift?
Effortless gift-giving Just place your order and we do the rest.
We... Gift-wrap, prepare the Enclosure Card and Ship.
**Featured Gift Occasion Ideas**
Note: Cookies must be enabled in your browser
for the shopping cart to work properly.
You may also call our toll-free number to place your order:
1-800-WEB-GIFT (1-800-932-4438).
Prefer to Shop by Price Range?
Quick Access to All NETIQUE.COM®
Gift Categories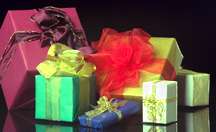 Netique, Ltd.
819 Monroe Street
Herndon, VA 20170
1-800-WEB-GIFT
(1-800-932-4438)
Fax 1-703-689-3703
email webmaster@netique.com

Web Site Copyright 1995-2014 by Netique, Ltd.
All rights reserved